Family and Friendship Forever
Eileen Marie Kelly was a longtime resident and volunteer of Cromwell. There was no act too big nor too small when it came to helping others – family, friends, neighbors, and strangers who were truly just friends waiting to happen. She lived with a traumatic brain injury brought on by an Arterial Venous Malformation. Since her unexpected death two years ago, her cousin, Kasey Harding and her family have been working on how they could honor Eileen's life and love of Cromwell.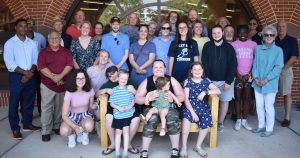 Kasey learned about the Community Foundation of Middlesex County's Campaign for Bully-Free Communities Buddy Bench initiative when CFMC partnered with CHC and the Middletown Police Department to place a purple bench in Harbor Park last year. Sharing the idea with family and friends, Kasey soon began plans to have a bench placed in Cromwell in celebration of Eileen.
"Eileen was always instrumental in our kids' lives and her memory still lives within us and the stories we share. There was no better way to honor Eileen because she was always looking out for people who needed support and help … sometimes in very small ways and sometimes in very in big ways," explained Kasey.
Representatives from the Community Foundation of Middlesex County and Rushford Academy recently joined the Kelly-Harding family at Cromwell Belden Public Library for a very special presentation – a "Buddy Bench" in memory of Eileen Marie Kelly.
What's a "Buddy Bench"?
The "Buddy Bench" is a simple idea to eliminate loneliness and foster friendship. The Community Foundation's Council of Business Partners Fund partnered with Rushford Academy in Durham to build the benches and present them to schools, parks, and towns throughout Middlesex County and beyond.
The wooden bench, with the words "Buddy Bench" spelled out in bright-colored letters, was built by at-risk youth from Rushford Academy in Durham. Buddy Benches provide a conduit for children (and adults) to "buddy up" with those who may be feeling isolated during recess or other free play activity times. The Rushford residential teen students are learning positive life skills and giving back to their community by building and donating benches to local schools and libraries, with grant support from the Community Foundation of Middlesex County. One Rushford Academy student was on hand to personally present the bench to an enthusiastic gathering of the Kelly-Harding family.
The bench is located outside the children's room at Cromwell Belden Public Library. We invite you all to visit this "Buddy Bench" and get to know Eileen through the kindness, compassion, and love of a buddy. You never know who will sit next to you.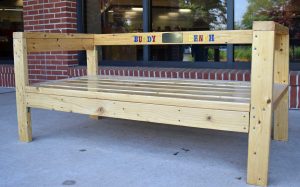 The plaque on the bench reads:
Love is Patient, Love is Kind.
This bench is giving in loving memory of
EILEEN MARIE KELLY
Always in our Hearts
Donated by the Council of Business Partners Fund
at the Community Foundation of Middlesex County
in partnership with the Rushford Academy.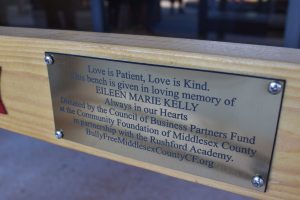 BullyFreeMiddlesexCountyCF.org
Interested in joining the Council of Business Partners Fund and making a positive difference in the lives of Middlesex County youth? Join this incredible group of local business leaders HERE and become an upstander for our children.