HIGHLIGHTS: 400+ stand together for change at Rally for Bully-Free Communities in Middletown; The Morgan School in Clinton Recognized For Positive School Climate.
Students, educators, business owners, and community leaders came out in record numbers to rally for bully-free communities at the EMPOWER Leadership Sports Center in Middletown on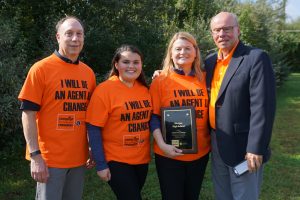 October 4, in recognition of National Bullying Prevention Awareness Month. Organized by the Community Foundation of Middlesex County (CFMC) and its Council of Business Partners Fund, the fifth annual Rally for Bully-Free Communities included team building activities, guest speakers, pledge taking, and the presentation of the Bully-Free Community Spotlight Award before a crowd of more than 400 people.
In attendance were educators and students in grades 5 through 12 from Clinton, Chester, Deep River, Essex, Westbrook, Middletown, Durham, Middlefield, East Hampton, North Haven, and Cheshire, as well as young adults with intellectual disabilities from Vista Life Innovations and MARC Community Resources. School bus transportation was funded by the CFMC Council of Business Partners. The morning program included team-building and self-empowering activities led by the staff at EMPOWER Leadership Sports; First Tee of Connecticut; Rushford; members of the Middlefield Volunteer Fire Company; Middletown School's physical education teacher Amanda Amtmanis; State Trooper Dawn Taylor and K-9 Lucas; and volunteers from Xavier High School, North Haven High School, Rushford Academy, and the Community Foundation of Middlesex County.
Kayla Pelligrino, a student at Morgan High School in Clinton, spoke about how the positive environment at her school helped her to get involved with different groups and made her feel like she was part of a family. Dave Director, Chairman of the CFMC Council of Business Partners, and Dave Maloney, Director of Student Activities for the Connecticut Association of Schools, presented Morgan High School Principal Keri Hagness with the Bully-Free Communities Spotlight Award in recognition of the school's ongoing work to sustain a school culture centered around individual uniqueness, diversity, acceptance and kindness.  The school program features a three-day summer orientation program for incoming freshmen that pairs them with upperclassmen who are there to help during the transition to high school, and well into the school year. Renee DiNino, Director of Community Affairs for iHeart Radio, and Chief Ambassador for the campaign, was also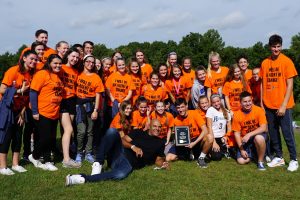 recognized for her community service work.
Sportscaster and former NBA/UCONN Basketball star Donny Marshall, the campaign's spokesperson, shared his personal experiences as a victim of bullying, wrapping up the day's events by leading the crowd in reciting of the campaign pledge, which promises to be an agent of change and stand up to mean-spirited behavior. For more information on the Campaign for Bully-Free Communities, call the Community Foundation of Middlesex County at 860-347-0025.